Product Overview
WHY MCT OIL?
---
Hemplucid uses a medium-chain triglyceride (MCT) carrier oil to deliver the lasting benefits of our whole-plant, hemp-derived Hemp. MCT is a great way to deliver the synergistic entourage effect that comes from the cannabinoids and terpenes found in the whole hemp plant. This is one of our longer-lasting Hemp tinctures. Perfect for those who prefer to take their daily serving and experience effects for hours throughout the day.
HEALTH-CONSCIOUS CUSTOMERS KNOW MCT:
---
has complementary benefits to Hemp

has therapeutic effects

is fast-acting

is a natural source of energy

has long-lasting effects

is quickly absorbed and utilized by the brain and body

is stored as a fuel rather than a fat
HEALTH BENEFITS OF MCT
---
metabolic health

energy

a satiated appetite

cognitive clarity

digestive health

hormone balance

immune system vitality

absorption of fat-soluble nutrients
The effects of Hemplucid's Whole-Plant Hemp delivered in MCT are long lasting, and the health benefits of this sublingual oil will resonate with consumers throughout the day. When the holistic effects of MCT are combined with the therapeutic benefits of Hemp, users experience the full range of health benefits that this Hemplucid product has to offer.
This amber-colored oil is a perfect addition to an active lifestyle.
DURATION OF EFFECTS AND BIOAVAILABILITY
---
Because MCT oil has to be processed through your liver before it reaches the bloodstream, it takes longer to kick in than other methods of ingestion. Yet once it enters your bloodstream, the cannabinoids carried through MCT oil remain active and effective for hours throughout the day.
HEMP AND MCT: THE PERFECT PARTNERS
---
Compared to other carrier oils, MCT and the Hemp it carries is more easily absorbed by the body. This is because whole-plant Hemp is fat-soluble, dissolves into fatty medium-chain triglycerides, and synchronizes with your system as soon as it passes through the digestive tract. These essential fatty acids are quickly processed in the body while you receive the full benefit and bioavailability of Hemp and the additional health benefits from the MCT itself.
SUGGESTED USE
---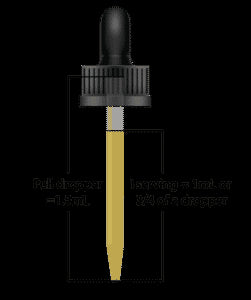 HOW MUCH IS A SERVING?
A serving is 1ml or approximately 2/3 of a dropper.
HOW DOES IT TASTE?
This natural, health-promoting product has a mild hemp flavor.
HOW TO USE?
MCT Oil may be used under the tongue or added to cold foods like salads, soups, smoothies, or other recipes. Hemplucid's MCT tincture is extremely effective if ingested sublingually. Place 1ml or your preferred serving under the tongue, holding it for thirty seconds before swallowing. Hemp begins absorbing into the mucus membranes in your mouth and breaks down through your liver, entering the bloodstream quickly and effectively.
THE BENEFITS OF WHOLE-PLANT HEMP
---
No matter what carrier oil you choose, you can count on Hemplucid products to deliver what is known as the "Entourage Effect."
THE ENTOURAGE EFFECT
The Entourage Effect is the synergistic benefit of whole-plant, hemp-derived Hemp that contains a range of naturally occurring cannabinoids and terpenes to maximize the potency, effectiveness, and therapeutic scope of HEMP.
Hemplucid's lab test results (click on the "Certifications" tab above to see the different lab sheets for each strength of this product), display the wide variety of cannabinoids that are included in our tinctures.
You'll find that broad-spectrum or isolate Hemp products are missing essential terpenes and additional cannabinoids. This means they cannot produce the full entourage effect, and lack the full range of benefits Whole-Plant Hemp can provide to your body.
Hemplucid keeps all of the cannabinoids and terpenes found in the whole plant intact. The most therapeutic, effective, and desirable properties of the plant should remain in Hemp products to enhance the synergy of the bodies cognitive receptors, improving the interaction with the body to produce positive effects.
Terpenes support Hemp and other cannabinoid molecules in producing the maximum range and potency of effects derived from the whole hemp plant.
Reviews